Christmas Ornaments Made In USA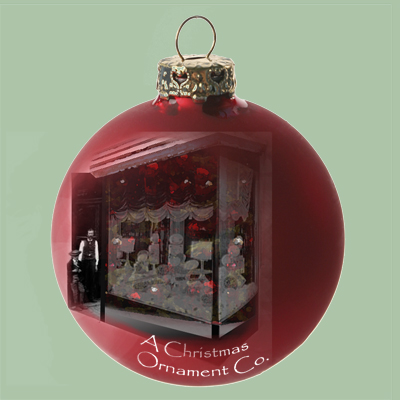 American Christmas Ornament Co. is your one stop for finding unique Holiday Christmas tree ornaments. We showcase ornaments that are educational, as well as conversation pieces.
Christmas Ornament collecting is a great way to remember loved ones during the winter holiday season, or for any special event. Many customers display our Christmas ornaments long after the Holiday Season is over. We carry ornament display stands and storage boxes.
Below is our current list of ornaments available for purchase. Our catalog includes time-honored Christmas glass, metal, and porcelain collectible ornaments. CLICK HERE for customizable Christmas Ornaments!
All of our ornaments are proudly manufactured in the United States.
Fund raisers looking to join our Ornament Fund Raising Program should contact us on or before November 8th.
<!!-- Social Net Buttons commented out DBW end commented out buttons-->





This years' official White House ornament commemorates William Howard Taft, our twenty-seventh President, who introduced the automobile to the White House and the Presidency. Taft's adoption of the automobile is in accordance with his love of manufacture

Item ID: 794










The 2012 official Mount Vernon ornament commemorates George and Martha Washington's legendary hospitality to friends, family and guests at the Washington's beautiful, palatial estate: Mount Vernon. The ornament is a highly detailed rendering of G. F. Gilm

Item ID: 19935










In 2012 the US Capitol Historical Society is celebrating its 50th anniversary with the catchphrase "Your Capitol, Our Mission: 50 Years Inspiring Informed Citizenship." This gorgeous ornament is in the shape of a snowflake and depicts the US Capitol build

Item ID: 002565










Honoring the administration of Theodore Roosevelt, the twenty-sixth President of the United States, The 2011 Official White House Christmas Ornament reflects the excitement that President Roosevelt, his wife Edith, and their lively young family brought to

Item ID: 634228463301










Get the 2011 and 2010 Official White House Ornaments in this fantastic gift set. Save time and money when you purchase these two collectibles together. Makes a great gift for someone starting their own collection, now at the lowest price available!

Item ID: 634228463301WH











Hand-blown very thick glass; made in America by artisans whose family have been in the glass-blowing art/business for generations. Complete your Christmas tree with something totally unique. This ornament measures a whopping four inches in diameter.

Item ID: 9813019










This beautiful red, white and blue ornamental ball is hand blown glass from artisans that have been in the craft for generations and is believed to be Santa's favorite ornament. This ornament is made with pride in the U.S.A and measures a large 4" across.

Item ID: 9813021










Discover the near-extinct art of glass-blowing with this hand-crafted Cherry Blossom "Sakura" ornament set. Our ornaments are created using either the "free-blowing" process or having the glass blown into a mold.

Item ID: 455s2










This beautiful blue and gray ornamental ball is hand blown glass from artisans that have been in the craft for generations. Made with pride in the U.S.A and measures 4" across

Item ID: 9813081










Each Frost Velvet Night Before Christmas Glass Ornament measures two-and-a-half inches in diameter. All our elegant glass Christmas ornaments are made with pride in the U.S.A.

Item ID: 0024762728958











Our Christmas Tree Seedling Ornament is the perfect present for everyone in your family. Measuring 18" long, this over-sized ornament holds one Colorado spruce seedling.

Item ID: 9813074







Featured Ornaments

Abraham Lincoln Memorial Ornament





$20.00






Red Velvet Bethlehem Nativity Glass Ornament Balls - Set of 8





$32.00






George Washington Monument Holiday Ornament





$21.00

$18.90

Save: $2.10




2011 U.S. Supreme Court Winter Scene Ornament





$36.00






Frost Velvet Night Before Christmas Glass Ornaments - Set of 4





$16.00






2011 Official White House Theodore Roosevelt Ornament





$26.00






Silver Pearl Frosted Snowflake Ornament Balls - Set of 4





$16.00






Official US Capitol US Constitution Ornament





$28.00